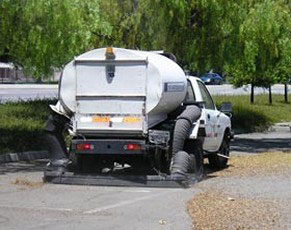 Ensure your property offers a clean and welcoming environment for your customers with professional parking lot sweeping services from Clean-A-Lot Sweep & Steam.
Whether retail, commercial, or industrial, the appearance of a property can have a positive or devastating impact on profitability if not maintained.
Whether you need a regular sweeping service or just a one-time sweep, we use our excellent and efficient equipment to clean your site. At Clean-A-Lot Sweep & Steam, we offer parking lot sweeping services to keep your property looking pristine. With 14 sweeper trucks and services available 24 hours a day, we are able to provide convenient sweeping for any property. For your convenience, we also ensure that our services don't disturb any neighboring residents, and our team works around any issues you may have.
Special Clean-up & Haul Away Services
Clean up your commercial property with our special haul away services. Sometimes shopping centers can become a dumping ground for people to drop off their old appliances, furniture, and unwanted discarded debris. At Clean-A-Lot Sweep & Steam, we can remove all types discarded debris from your property to ensure a clean and sanitary look for your customers. Clean-A-Lot Sweep & Steam can also provide graffiti removal or cover-ups.
Contact Us or call us at (800) 992-1355 to learn more about our commercial cleaning company.